I could hardly choose the best deal. Barbecue vendors were rushing to swank about their freebies and discounts. After carefully scrutinizing their offers, we had selected a spot for our chomp. The promise of unlimited free soup and great bill discount influenced our decision to side Eliza's, a barbecue shop within Larsian.
The crew lead us to our seats. The chitchats of the other group beside us were apparent. The normal office rants and the random day-to-day perturbation were the usual topics. The other side, on the hand, talked about relationship and stuff.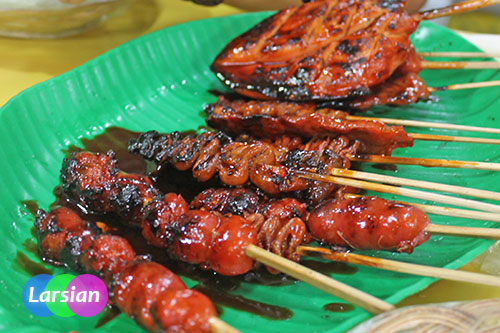 The Experience
The illumination around was not too bright, stirring an appetizing vibe. We ordered chorizo de cebu, chicken breast, pork barbecue, isaw (chicken intestines), gizzard, and the pricy blue marlin slice and squid from their display tables.
Cooking was done smack at the center of Larsian BBQ compound. After 15 to 20 minutes, we had the steamy barbecue and the grilled seafood on our tables.
Two baskets of 20 hanging rice (pusô) each were also served. That was not all for us to consume. Whatever is left will be counted and the missing will be assumed eaten, thus, will be charged. Make sure that you have them properly accounted. Hanging rice are bit expensive in Larsian.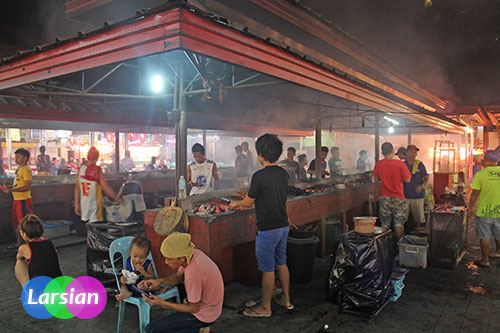 We were a bit disappointed though when the promised soup did not come. We had to repeatedly remind the staff.
When we were all set, we had a feast.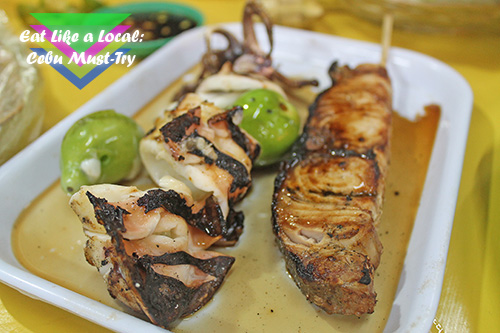 The crisps and texture of the half burnt side of chorizo de cebu gave an exciting twist on my palate. I also liked the tenderness of the grilled gizzard. I could taste the light sweetness of the marinade used in meat preparation. However, the grilled blue marlin and squid were the big winner that night. I did not expect them to be really fresh.
Beers were steep too. SanMig Light cost around 65 per bottle and it stunned us a bit when we saw the bill. It was still a good experience though.