I could feel the warmth of the morning sun. Bright rays transcend through the wooden shutter window. It was left open. No one minded to close it though, after watching the fireworks that lit the sky the night before. New Year's Eve, that was.
I was still sleepy at 07AM. However, inasmuch as I wanted to return to sleep—I couldn't—I remembered I agreed to join a friend for a laid-back sojourn in Moalboal. The resort town is one of Cebu's popular destination for diving, aside from Malapascua, Bantayan, Camotes, and Mactan.
So after a quick fix, I headed to Moalboal on New Year's day. Kicking off the year doing your passion is a sort of charm. That was why I went out, instead of spending the whole day in bed.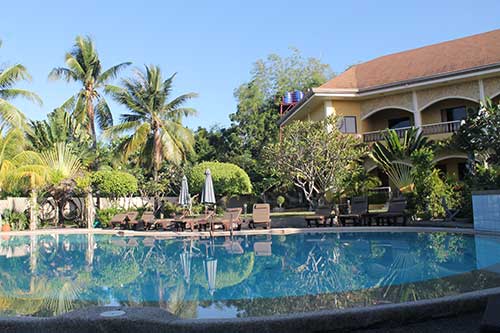 I met Marx at Moalboal bus stop around noon. Shortly after lunch, we boarded a tricycle to Turtle Bay Dive Resort, where we spent our 2 days.
Turtle Bay Dive Resort
Turtle Bay seats in an isolated, corally beach of Sitio Tongo. The road to the resort passes along a rustic community, and is unpaved.
The bumpy ride, however, becomes a minute sacrifice when you finally see the paradise.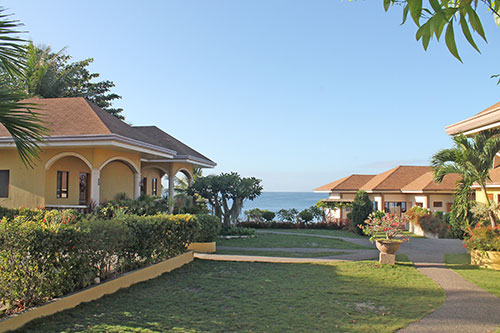 The landscape seemed carefully planned. The garden gives an impressive natural feel. The sleek pathways cutting through the small mead also invites exploring.
Overlooking the beach are two beautifully contoured gazebos that seat on the breeziest part of the resort.  You can finish a book while relaxing on the swing, or you'll probably take a lot of selfies and photos.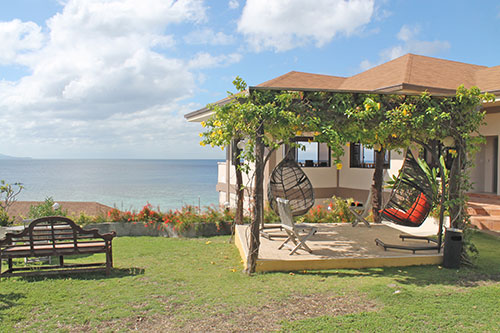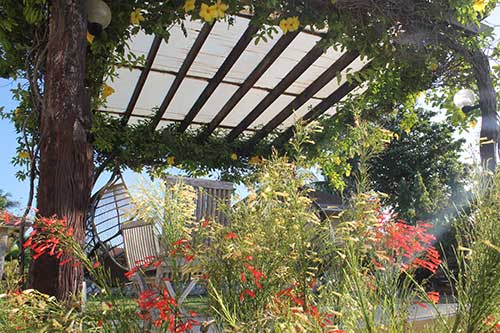 Fronting the resort is a short strip; sandy, rocky, and ivory. Just few strokes from the bay is a live reef where every guest can snorkel and dive.
The Rooms and Suites
Turtle Bay is a host to 28 rooms adorned with wooden furniture which designs are carved intricately. The bed frame is also made of hardwood which exhibits a contrasting detail against the concrete wall and tiled floor.
Each room is furnished with A/C, a comfy bedding, a spacious toilet and bath, mini refrigerator, a dresser with hangers, a balcony with seats (which can be used as smoking area), and a drying stand.
You can choose from the following room categories: deluxe with sea view, deluxe with garden view, deluxe with pool view, king's room with sea view, family room with pool view, and a presidential suite. Room rate starts from ₱2,350.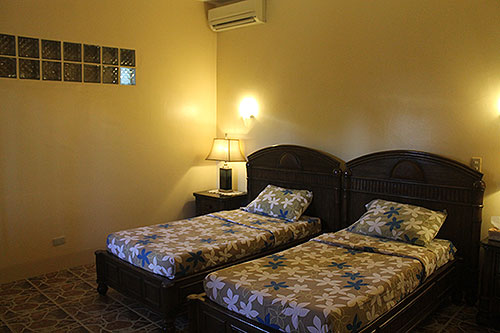 The room we got is a deluxe room with garden view. It comes with a twin bed and all other hotel amenities.
The Facilities
Aside from the standard package that is already included in the room, the resort also offers other premium services for guests, either for free or for an extra fee.
Restaurant
Turtle Bay is quite isolated and the nearest restaurant are 3 kilometers away. But you need not to worry for your munch, the resort does have an in-house restaurant that serves Filipino and European dishes, sometimes in fusion. Try to explore the flavors.
Game and Movie Lounge
Situated within the restaurant, the game and movie lounge treats guests with awesome games and movies. Approach a friendly staff and you are good to go.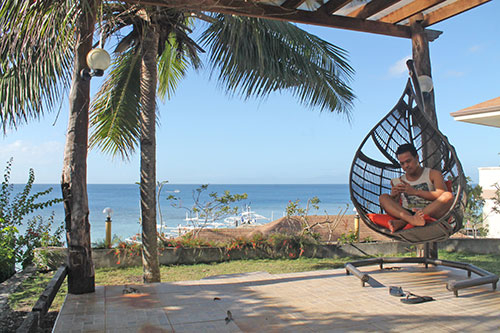 Poolside Bar
Cocktails, beers, and other spirits are served at the poolside bar to heat you up on a cold night.
The Spa at Tongo
Turtle bay houses a spa center to serve guests with pampering and relaxing sauna or full-body massage. A specialized hot stone massage is also offered.
PADI-Certified Dive Center
Turtle Bay has a in-house dive instructors and dive center that can assist you in your diving needs. Breathing tanks, diving suits, flippers, masks, and other gears are all available for rent.
Kayak and Snorkels
For a small fee, you can navigate the nearby waters and explore the reefs using their kayak and snorkels for rent.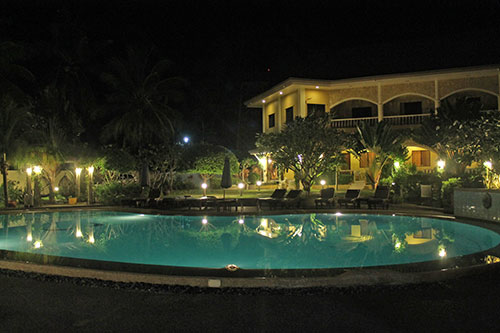 Contact Turtle Bay Dive Resort
Address: Sitio Tongo, Barangay Basdiot, Moalboal, Cebu
Contact #: +63 917 323 2638 | +63 927 315 1510 | +63 917 302-2318
Email: turtlebaydiveresort@yahoo.com
Facebook: https://www.facebook.com/TurtleBayDiver
Online Booking: www.Agoda.com/TurtleBay