A marquee of ultramarine and viridescence rolls like phantasms. Images of sandbars, islets, foliage, water cascades, and streams are flashing back and forth, teeming my imagination. They are like unachieved dreams that toy with you every time they come to your attention.
I could not help but to give in to the mystifying call of conquest, a call to find the underrated destination of the Philippines.
My itchy feet and thirst for adventure brought me to Guihulngan. I did not invite a friend to travel with. It was completely random, and I did not make any research prior to the trip. I just went to Guihulngan one Saturday morning; willing to accept whatever misadventure that I will meet along the way.
My plan was a day tour since I still have a dinner to catch up in the evening that day.
Since I came from Cebu, I left the city the earliest possible. I took a van to Toledo City, crossed the Tañon Straight, and then hopped on a bus to Guihulngan. And eventually, I found myself navigating through the infamous highlands of Negros Oriental.
Kansalakan Enchanted River
It was around noon when I finally had a glimpse of Kansalakan Enchanted River. This is Negros Oriental's answer to Hinatuan. Hinatuan, however, is blue, Kansalakan is virescent. Hinatuan is brackish, Kansalakan is fresh.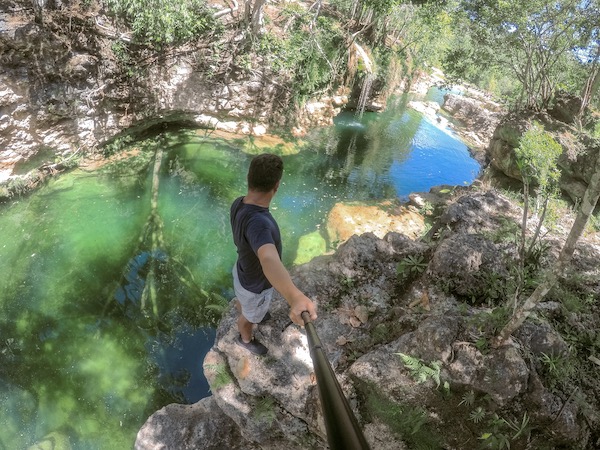 The deepest portion of the river is calm, so it is safe to swim across or float with your inflatables. Some sections of its edges are high enough for cliff diving.
If you are not a confident swimmer, you can settle at the shallow part of the river, which offers equally satisfying experience.
Hinakpan Mystical Hills
Around 15 minutes ride from Kansalakan is Hinakpan Mystical Hill, a pilgrim site.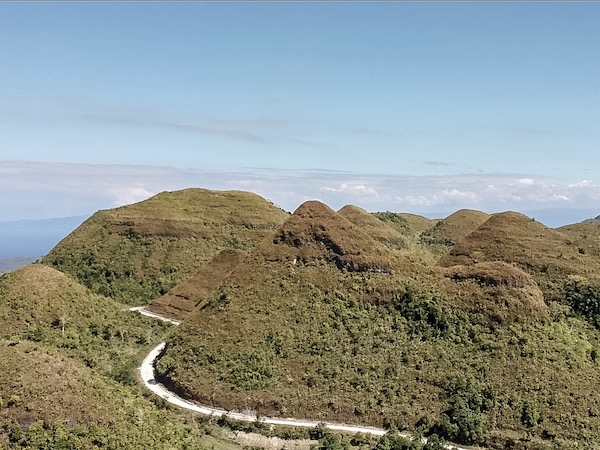 A beautiful array of mounds adorns the entire landscape. In some way, it resembles the Chocolate Hills of Bohol, though Hinakpan has fewer. Some have pointed tips contrary to Chocolate Hills' rounded peaks.
How to get there
The easiest route is via Dumaguete. Fly in to Dumaguete, and then take a Ceres bus to Guihulngan.
From Guihulngan Public Market, hire a motorcycle (habal-habal) to both Kansalakan Enchanted River and Hinakpan Mystical Hills. The round-trip fare is 400 pesos for two passengers.
If you visit after your Majuyod Sandbar adventure, return to Bais City proper, and then wait for a bus to Guihulngan.
From Apo Island, hop on an outrigger boat to Malatapay, and then from the highway, hop on a bus to Dumaguete. From Dumaguete, transfer to another bus to Guihulngan.
If you are coming from Cebu City, take a van to Toledo City. The van terminal is located along Junquera Street near the corner of Sanciangko Street. From Toledo, take a ferry to San Carlos. Travel time is 1 hour for Fast Cat. It may cost you up to 2 hours if you take the Ro-Ro. From San Carlos City, take a bus to Dumaguete, and then disembark at Guihulngan terminal.
From Bacolod City, hop on a bus to San Carlos City, and then from San Carlos, transfer to another bus bound for Dumaguete. Make sure that you get off at the Guihulngan terminal.
If you are coming from Sipaway, return to San Carlos City, and then hop on a bus to Guihulngan.
Notes, Tips, and Reminders
To save on your habal-habal expenses, make sure that you travel by groups of two.
Small makeshift stores that sell bottled water are available at Kansalakan Enchanted River vicinity, but I am not sure if they are open all-year round, so make sure that you bring enough snack and drinking water.
There is no store around Hinakpan Mystical Hills.
Hinakpan is also a pilgrim site. You need to register before you can take the stairway of the Stations of the Cross.
Going to Hinakpan and Kansalakan is a 40-minute motorcycle ride, so make sure that you cover yourself from the sun's heat. A sarong could do the protection.
Watch our travel video