Where travelling is part of a social system, travelers tend to inform their peers wherever they are in the world – thanks to Facebook check-in. The social networking giant finally revealed the result on the most "social" landmarks in the world by counting on the number of check-ins received or made in a certain spot.
Europe has listed 10 places in the top 25 while 6 of the listed are from North America, four of which are from the US, the country with the most number of listed places.
Four landmarks are from Asia, two are from both Oceania and South America, and one from Africa.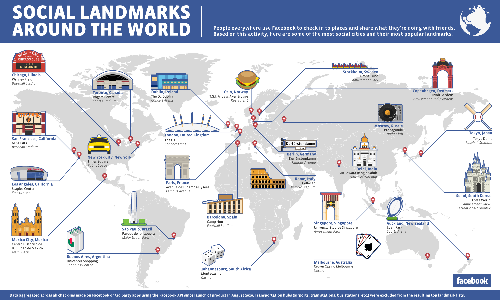 The top 25 most checked-in landmarks are shown below:
Asia
New Delhi, India: Gurudwara Bangla Sahib (house of worship)
Tokyo, Japan: Tokyo Dome
Singapore: Singapore Universal Studios
Seoul, South Korea: Lotte World (amusement park)
Africa
Johannesburg, South Africa: Montecasino (casino)
Australia and Oceania
Melbourne, Australia: Crown Casino
Auckland, New Zealand: Eden Park
Europe
Copenhagen, Denmark: Copenhagen Tivoli Gardens (cultural center)
Paris, France: Avenue des Champs-Élysée (iconic neighborhood)
Berlin, Germany: Kurfürstendamm (iconic neighborhood)
Dublin, Ireland: The O2 Dublin (concert arena)
Rome, Italy: Colosseum
Oslo, Norway: TGI Friday's Aker Brygge
Moscow, Russia: Propaganda nightclub
Barcelona, Spain: Camp Nou (soccer stadium)
Stockholm, Sweden: Gröna Lund (amusement park)
London, United Kingdom: The O2 (concert arena)
North America
Toronto, Canada: Rogers Centre (sports stadium)
Mexico City, Mexico: Centro Historico de la Ciudad de Mexico
Chicago, United States: Wrigley Field (sports stadium)
San Francisco, United States: AT&T Park
New York, United States: Times Square
Los Angeles, United States: Staples Center (sports arena)
South America
Buenos Aires, Argentina: Unicenter (shopping center)
São Paulo, Brazil: Parque de Ibirapuera (park)