Here comes summertime and people from the metro swarm the closest water bodies to ease the scorch. One of the places frequented by the city folks is Daranak Falls in Tanay, Rizal. The waterfalls offers a natural cooling effect, venting out unnecessary body heat of every patron.
Since it is one of Manila's closest, the falls vicinity usually gets crowded for the month of March to May. The cascade splits and becomes thinner too. However, if you are game to join the rumble, then continue reading this article for you to prepare for your next getaway.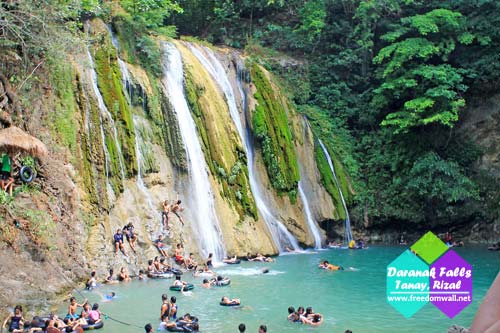 By the way, the nearby Regina RICA (Rosary Institute for Contemplation in Asia) which features a 71-foot statue of Virgin Mary and the Calinawan Cave are additional attractions you can explore, just in case the falls is not enough to quench your thirst for adventure.
How to get There
Find your way to the UV Express terminal at Starmall in Shaw Boulevard, Mandaluyong City and look for Tanay-bound vans. The fare is ₱70 and takes around 2½ to 3 hours..
From Tanay public market, hire a trike to Daranak Falls. The fare is pretty standardized at ₱100 per way and this is good for 3 passengers.
What to do
Of course, swimming through the natural pool at the bottom of the waterfalls would be very exciting. You can also do picnic with family and friends. Just remember that liquors of any form are prohibited within the falls premises. The management deploys a lot of roaving personnel to oversee this matter, and, of course, for general safety.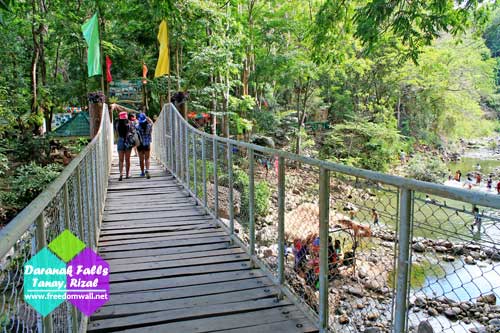 You can also hike the 308-steps staircase of Regina RICA or explore the awesome caverns of Calinawan.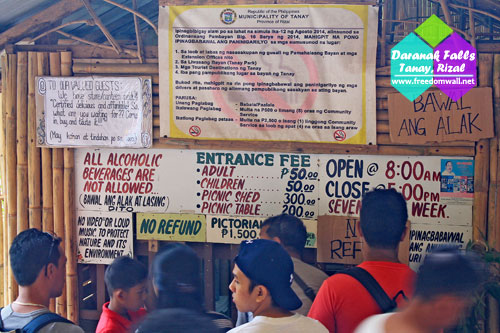 Fees and Reminders
The falls is open only from 08:00AM to 05:00PM daily.
Entrance fee is ₱50 for both the adults and children and this is not refundable
Picnic shed or a cottage with roof usage fee is ₱300 for a day use while the picnic table is 100-peso cheaper. These are also not refundable.
You are not allowed to bring any liquors inside. You are also not allowed to enter if you are already drunk.
Smoking, too, is prohibited.
Though they already collect entrance fee, you still need to shell out ₱5 every time you use the toilet. (I found this, unfair!)
You are not allowed to bring plastic or styro cups and plates. They will confiscate these items at the entrance but you can get them back before you leave (that is, if you remember).
You can cook your food inside if you bring your own stove, charcoal, cooking utensils, and anything to cook.