Shocked! That was my reaction when I came across to a Yahoo! article entitled "What the car of 2020 will look like". Shocked not only to the article's content itself but with the comments posted below it. Wouldn't these people aware that this technology was been available for more than three years now? Several models were out in the market such as Lexus LS 430, 2007 Volvo S80 and S60, Mercedes-Benz's S-Class, 2009 Lincoln MKS (photo shown) and the recent Ford Taurus and Audi A8 offers such warning system. The first release of this Precrash system (Collision warning System) technology-capable cars offer forward collision warning while the latest ones offer forward and side collision warning.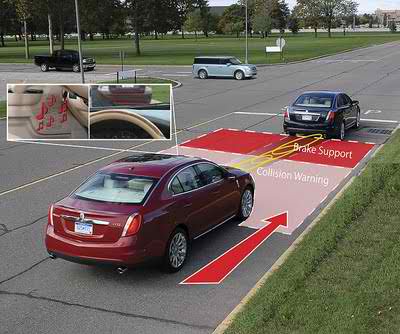 Volvo and Ford also offer collision warning with auto brake or brake support in which the system provides a warning through a Head Up Display that visually resembles brake lamps. If the driver does not react, the system pre-charges the brakes and increases the brake assist sensitivity to maximize driver braking performance.
Regarding the article, I wasn't satisfied because I expect it to contain something that is really techie – like cars that would levitate, speeds up to 500 km/s, wheel auto-change,  dilute alcohol-powered hybrid, voice command lock and start-up, auto driving and anti-theft driving (allows only the owner to drive), and many more.
My point is – Collision warning system technology is already available so the article bearing the title "What the car of 2020 will look like" doesn't make sense to me. And to those who commented the article, please have your own reading before commenting for you to be guided.