An intensity 6.7 earthquake struck 10 kilometers off the coast of Tayasan town in Negros Oriental at 11:49AM, February 6, 2012. Other reports said 6.8, 6.9, and even intensity 7.0 in Dumaguete City and I have completely no idea which report is saying the exact figure.
A tsunami warning was raised after the said quake which had caused panic to the residents which, I believe, was lifted at 2:30PM today. And for an individual like me whose family reside in the affected area was to get an assurance of their safety. I am receiving text messages from my Mom that they are feeling aftershocks until this moment (08:30PM). I have to explain that aftershocks are usually expected after any strong ground movement. Though not enough, but this will at least lessen their fear.
But what is causing me headache are those irresponsible individuals sending text messages warning the residents for a tsunami to hit at 8:00 – 9:00PM. As far as the news is concerned, the tsunami alert was been lifted earlier so why such messages continue to proliferate causing fear to the locals. Is their any way we could trace the source of these malicious messages? This is not an issue to tolerate.
"Tsunami aftershock between 8 – 9pm. Phivolcs advisory plz stay calm and evacuate to higher ground. Thank you Phivolcs. Pls pass this to all concern."
Quoted above is the verbatim copy of one of the panic-causing SMS I received from my Mom. Many others had been received by some of my relatives. I do care about their safety but evacuating is another risk to take. I can't just let them stray on the rural high grounds in the midst of the cold night.
I checked the Phivolcs website to verify this info and to get some latest updates, but guess what I got…an http error 504. The website is too slow and after a long wait, I just got an error. How could I comfort my family at home if I could not get any OFFICIAL verification.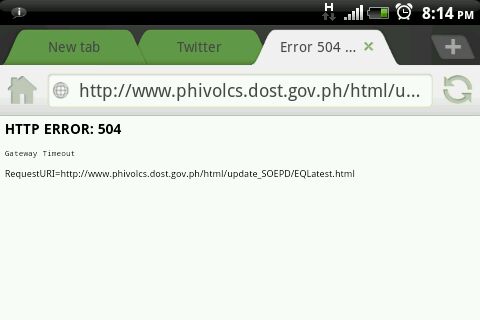 Dear Phivolcs and DOST, the entire nation relies to your service and most of us, whose direct source of information is your website, depend on what you posted on your site. Please ensure that all links are working and all information are updated. Also, please pay enough bandwidth to keep the site up and running even if the entire 100 Million Filipinos will go online at the same time. For an emergency situation like this, we need direct updates from you…most especially that erroneous and malicious reports are everywhere.