Do you have the best and creative ideas in your mind, which nags for freedom? Do you have what it takes to be one of the 'elite' mobile developers in the country? Or perhaps you are an aspiring geek who yearns for spotlight to come and notice your existence? Then you spot the right place.
Smart DevNet & WebGeek finally opened their doors (and even the window) for all of the mobile developers all around the nation to engage in Foursquare Hackday Philippines. #4SQHackPH is an all-day mobile app hackathon. We envision that this will give rise to the most creative and most skillful team to deliver the best mobile application using foursquare API.
Paul Pajo, a Developer Evangelist of SMART Communications said that hackathon assemblies like #4SQHackPH is one good way of giving the developers proper recognition and acknowledgment for the apps they've formulated, constructed and created, since most of the time the public forgets all about them. He thinks it is just fair to make people remember that there is always a person working behind those applications they have been using and enjoying.
While Jim Ayson, officer of Strategic Partnerships at SMART Communications pinpointed that the event is also one way of gathering up a whole lot of different and unique ideas when it comes to the web and app development industry. Ayson said that they are very open with crowd-sourcing innovation method and to be able to do that they should accept new and fresh concepts through different developers they meet.
If you think the callings shouts your name then stop hesitating; search for a partner or a three-man team and sign up and grab a ticket worth PhP 1,000. Have no budget? Then get your 80% early bird tickets at PhP 200 on October 29 – better be early. See how fast approaching it is Don't let this opportunity blows like a wind and disappears like a mist. After having the ticket, mark your calendars on the actual event – at Sadoce, 12/F Smart Tower, Ayala, Makati City on December 1.
It's going to be a great event, so be sure to check out the full details at http://hackday.webgeek.ph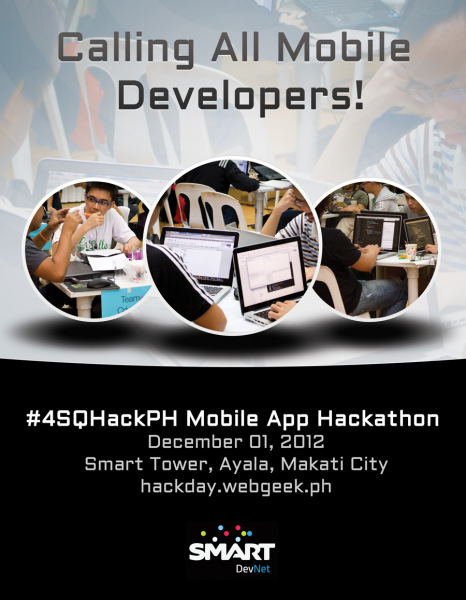 About:
SMART Developer Network (SMART DevNet), is the community program that is made for developers. SMART has recognized that apps will be the future of IT and with this, SMART is now more than just a telecommunications company, it is now a company that helps in engaging those who are usually doing mobile & software development for them to be at the forefront of the mobile world.
WebGeek Philippines is a community that serves as a venue for geeks, developers, designers and startups. We are a growing and thriving community that aims to learn and have fun along the way! Our goal is to form community projects that will advance the IT industry in the Philippines through uniting people of various expertise.