Solaire Resort and Casino, a billion-dollar mixed-use resort, is the first of its kind to open in the famed Entertainment City Manila. It features luxurious suites and villas, wide fine dining options, unlimited entertainment, and of course, word-class casino.
On its first year, Solaire had able to gain significant attention of the social media. One great proof of such achievement is the 1 million following it earned in Facebook for just 1 year.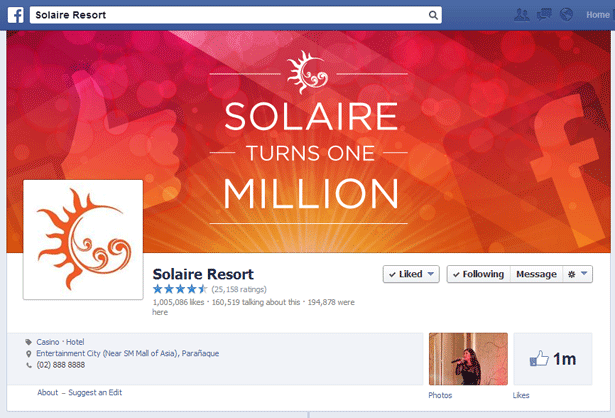 [custom_table style="1″]
Solaire Resort and Casino "1 in 1":
(ONE Million FB Fans in ONE year)
Solaire Resort and Casino, the fastest growing integrated resort in the country surpassed 1 Million Facebook "Likes" in one year (facebook.com/solaireresort) a great milestone to mark its 1st year anniversary.Solaire is the first integrated resort to embrace Social Media with its own in-house digital marketing team since the property opened in March 2013 and has indicated its strength within a year. Social Media is an essential part of their continuous efforts to innovate and provide impressive and exceptional entertainment to all their clientele. Growing engagement with fans of Solaire has contributed significantly to the business success. Social Media platforms will enhance the marketing plans of Solaire and allows them to interact and update regular patrons on all events, activities, shows and promotions.

Solaire engages its valued followers through Facebook and this platform provides them the opportunity to participate and share those special experiences of great memories. This provides an opportunity to connect our most supportive and passionate fans in a quest to find ways to enjoy and "Create their Moments" at Solaire.
This is something we are proud of and wish to express our sincere appreciation to our loyal supporters and 1 Million Facebook fans for their continued support as we celebrate our 1st year in business. We are glad to be able to connect with our guests through Social Media, says Jasper Evangelista, Vice President Brand Marketing, Solaire Resort and Casino.
Solaire's Facebook page has inter-active postings daily on the gaming and resort promotions, events, raffle and other activities. Solaire has a strong social media presence in the Philippines and a rising presence in Asia.
Stay updated with Solaire through Instagram, Twitter and YouTube.
Solaire Resort & Casino, the primary property of Bloomberry Resorts Corporation, is a USD $1.2 Billion integrated destination resort on an 8.3-hectare site in Manila, Philippines opened March 2013.
Solaire, a luxury destination casino resort, is the first property to open in the Entertainment City, a government sponsored (Philippine Amusement and Gaming Corporation) economic development zone.
Solaire's Bay Tower (Phase 1) features 500 luxurious rooms, suites and bay side villas, 18,500 square meters of gaming space, a wide range of award-winning signature restaurants, sophisticated bars and lounges, and an ample multi-level car park. The property has additional 258,721 square meter expansion project under development which is expected to open 3rd quarter of 2014.
For more information and reservations, please contact a travel professional or access the website at www.solaireresort.com.
For reference and inquiries, please contact:
Joy A. Wassmer
Director of Communications and Public Relations
Solaire Resort & Casino
Telephone Number: + 63 2 883 8783
Mobile Number: +63 999 886 1698
E-mail: joywassmer@solaireresort.com
[/custom_table]