One of the best investments you can make if you go camping often is to get a good sleeping bag. It can make a massive difference in your sleeping quality, and it's an investment that you should make as soon as possible.
That being said, bags are more than just buying the first one you like. You need to pick the right insulation, temperature rating, shape, etc., and buying the wrong sleeping bag can be a costly mistake. That being said, https://www.hykeandbyke.com/ have some of our favorite options, so make sure to check them out. Now, let's take a look at the factors that impact your choice and how to make the right purchase decision.
Pick the Right Insulation
The main thing about choosing a sleeping bag is choosing the right type of insulation. This impacts not just the performance and comfort, but also the packing size and weight, and of course, the price of the sleeping bag. You can choose between synthetic sleeping bags and down-filled sleeping bags, so let's consider both.
Kicking things off with synthetic fill sleeping bags, their main strength is pricing. They're usually cheaper than down-filled and still perform great (even better than down) in some situations.
Aside from pricing, they're also great performers when it's wet. Unlike down-filled sleeping bags, they dry really quickly, and even if they're wet, they don't lose too much of their insulation. If you're worried you might get caught out in the rain when you're camping, it might be a good idea to get such a bag, because it's going to keep you safe and dry in those conditions.
On the flip side, they're far from perfect. They're somewhat thicker, so you can't pack them too tight, and they're also on the heavier side. If you need to hike to get to your camping site, this will have an impact. Still a great value choice, though.
Down-filled sleeping bags, however, are usually considered to be the more premium variant. They come with a few big advantages that make them a great choice.
The first one is the fact that they're light and can be packed very small, taking up very little space in (or on) your backpack, and this is arguably their main trait. They're also very comfortable when set up, and provide excellent performance when it's dry outside. Oh, and best of all, they retain that performance even if you use them for a couple of years.
On the other hand, they aren't exactly cheap, and if you get them wet, it takes a good while for them to dry out. This is why they're only recommended for camping in dry conditions, and why some of the more premium picks come with water insulating layers. This makes them even more expensive, though.
As we mentioned, both have their own pros and cons, so you should get one that fits your budget, and your needs in terms of camping conditions.
Choose a Suitable Shape
Sleeping bags come in a couple of shapes, they're more than just a rectangle that fits your body. However, the ideal shape for many is exactly the rectangle, because it gives you plenty of room for you to move around, and you can even roll over inside it, which is great. Some rectangular sleeping bags even come with a full zipper, and if things get hot, you can use them as a regular comforter rather than a sleeping bag.
Those of you who'd prefer a more snug fit should opt for a mummy bag. They're a bit narrower at the legs, which does limit your available space a bit but keeps you warmer. And there's also double sleeping bags, too, but we'd recommend them only if you're camping with a partner.
The shape is a personal preference for the most part, but if you aren't sure as to which one you should go for, a rectangular one is a safe bet.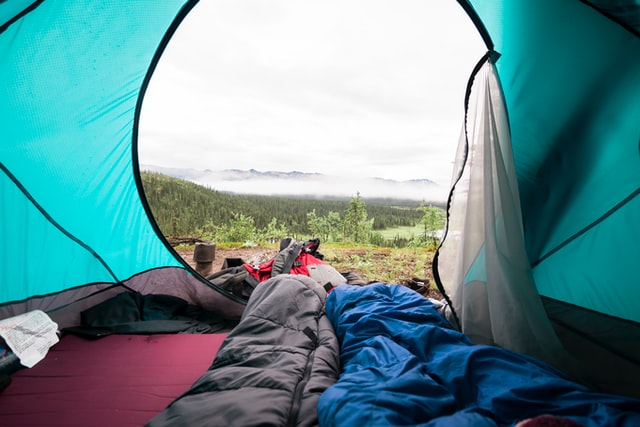 Note the Temperature Ratings
Last but certainly not least, you should consider the fact that sleeping bags are all made for different temperatures. You've got the warm, summer bags, the cold winter bags, and the three-season bags that try to cover everything and are perfect for spring and autumn camping.
Summer bags are made for temperatures that exceed 30 degrees Fahrenheit, whereas winter bags are made for anything below 15 degrees Fahrenheit. Anything in between, and those three-season bags are perfect.
What you should keep in mind with the ratings is that you should consider the coldest temperatures you'll experience on your camping trip, and take it from there. That will usually be the late-night temperatures when you're sleeping, so get a bag that's going to keep you warm in those conditions.
And last but not least, don't forget that things like your clothes, sleeping pad and tent also make a difference to the sleeping conditions – so be careful when picking a bag.