If you're tired of visiting the same old boring travel destinations, you're probably keen to discover somewhere new and unique. If you ask me, Vietnam could be the answer to your prayers! More and more people are discovering the country for the first time, but it remains a bit of a hidden gem.
Vietnam has made an incredible country after being ravished by the Vietnam War a few decades ago. The people are friendly, and the natural landscape is simply stunning. But if you're still not convinced, here are 5 great reasons why you should visit Vietnam.
1. It's Great for Budget Travellers
One of the very best things about Vietnam is the price; it's an incredibly cheap place to travel. That's why it's so popular with young people and backpackers. You can see the whole place without breaking the bank.
There are plenty of very cheap hostels to stay in, and you'll probably be surprised by how cheap it is to eat. Street food costs next to nothing, and it's a great way to experience the country's food.
2. But There is Luxury Too
Just because the country is cheap to visit, that doesn't mean there are aren't plenty of luxury options for those of you looking to travel in style. There are more and more luxury options springing up around the country.
Lots of companies offer luxury hotel management, and the 5-star hotels are as good in Vietnam as anywhere else. The only difference is, you'll probably get even more for your money in Vietnam!
3. The Food is Incredible
I mentioned to the street food briefly above, but wherever you eat in Vietnam, the food is fantastic. You might have tried Vietnamese food at home, but nothing compares to tasting in the country itself.
The food changes depending on what region you're in, so to get a full overview of the country's cuisine, travel around and try as much food as you possibly can! There's a lot more to it that spring rolls and it's all fresh and prepared by hand.
4. There's Halong Bay
In the Quang Ninh Province, you'll find Halong Bay. It's probably the most famous part of Vietnam, and it definitely lives up to the hype. It's more than just a simple bay.
The clouds lie low on the ocean creating a wonderfully mystical effect. And The mountains and caves surrounding the bay are simply stunning. If you get the chance, make sure you watch the sunset from the bay!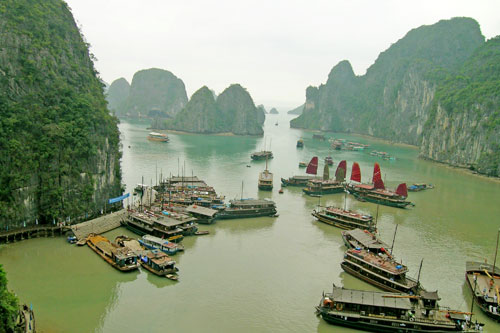 5. The Beaches Are Stunning
We all like to relax on a beach from time to time, and Vietnam gives you the perfect opportunity to do just that. You might not realise it, but Vietnam has some of the most stunning beaches you'll find anywhere in the world.
You should check out the beach at Nha Trang. The sands are white, and the waters are safe to swim in. There are also lots of opportunities to do water sports too.
It might not be the kind of destination you usually visit, but Vietnam has a lot to offer, so don't rule it out!