Roxas City in the Province of Capiz is nicknamed as the Seafood Capital of the Philippines.
I never thought that I would change my plan on my last minute in Boracay. Instead of paying for another night of stay at Frendz Resort, I headed to Cagban Jetty Port and boarded a pumpboat to Caticlan. From Caticlan, I took an Iloilo-bound bus and paid a route to Sigma. From Sigma bus stop, I took another bus to Roxas City.
Using a not-so-reliable mobile internet, I searched for interesting places in Roxas City and found Santa Monica Church, a 3-century old church in the neighboring town and Baybay, a place where you can taste the city's best seafood.
I arrived early, so I headed to the town of Panay first to check San Monica Church, which houses Asia largest church bell. When I returned to the city proper, I took a short walk within the downtown area and visited some interesting historical places such as the Panubli-on or the Roxas City Museum, the Immaculate Conception Cathedral, the birthplace of the late President Manuel Roxas, and many more.
When I noticed that it was almost sunset, I rode a tricycle to the People's Park in Baybay.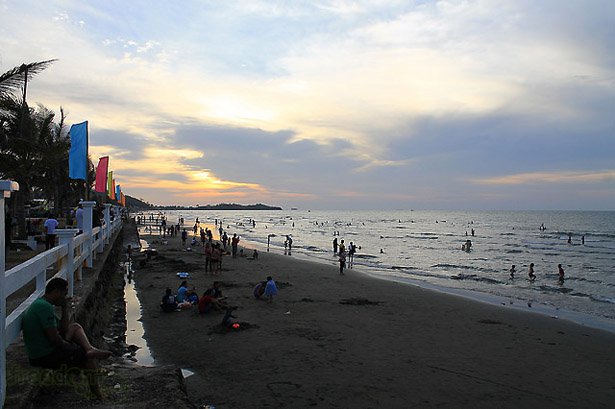 The sky was shaded with gray clouds, the sea was tuned with the music of the small waves breaking, and the beach was fairly busy serving the patrons swimming, wading, and picnicking. The sun is setting but that didn't stop the locals from their water activities.
Only the elevated concrete platform separates the People's Park from the beach and the people from both sides were all busy on their respective undertakings.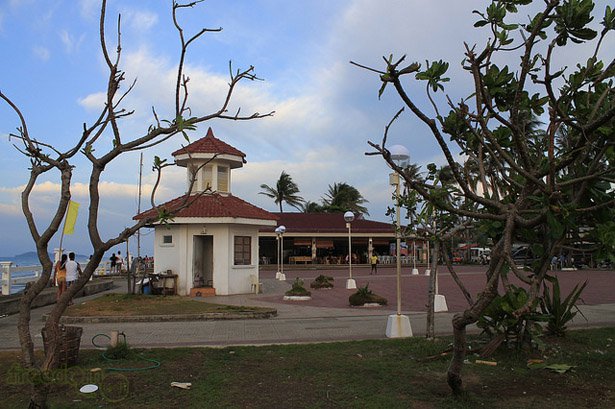 Located inside the People's Park is the Seafood Center. You can order fresh seafood and have them cooked while you wait. I ordered grilled marlin, clam stew, and pork barbecue at Bebing's. I also added my favorite mango shake in the bill.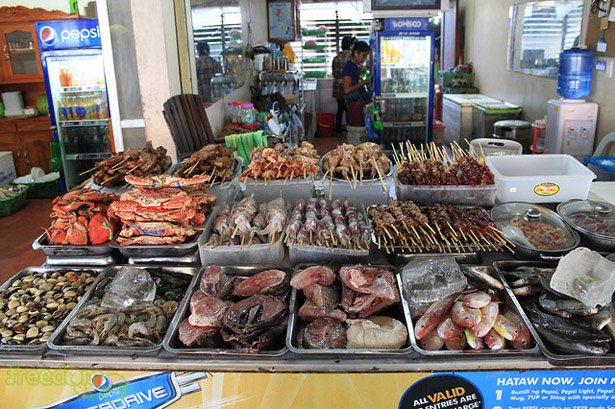 While waiting for my order, the sky illuminated into a beautiful orange canvas. It was so magnificent that I could't hold my camera down and had my shutter rest.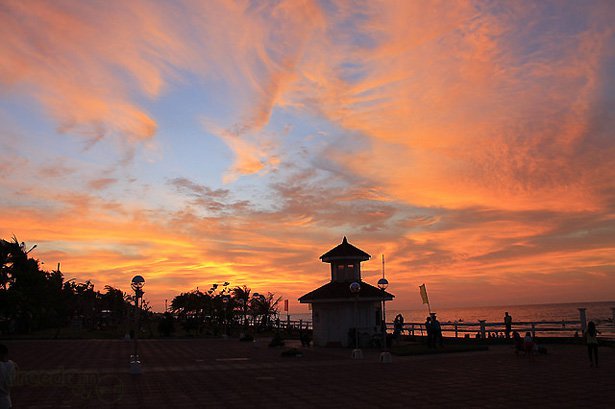 After this startling scenery was an awesome dinner, an unforgettable seafood munch ever.
It was already dark when I finished my meal, so after a short rest, I headed to the city proper and took night photos of the downtown.