I admit, Freedom Wall is hosted at Freehostia, but before that, I was using blogger and I was really disappointed when they (their virtual robot) tagged my blog as spam, thus, they put it offline and I eventually lost all my 200+ articles. Sad thing is, I wasn't able to keep a backup. So, as a sort of advice make it as a habbit. Blog export is good way of backing up your blog because if you opt to change your host due to disappointment, you can always keep your articles' publication dates.
Yes, it was midst of 2010 when I lost all my articles in blogger and that custom domain which I bought from them won't guarantee my blog's perpetual online presence (provided that I contantly renew my domain). I made an appeal but such effort was futile.
Disappointed? Yes! but i still continue using blogger. Hosting services at a time were very expensive. Though there are other free hosting services such as wordpress, tumblr, and many others out there, I still remained with blogger for some reasons. WordPress was complicated for me (that time) and its domain customization was expensive. Tumblr had poor themes while the rest were just unreliable.
I signed with Freehostia a year ago but the control panel is just complicated for me to use. Just recently, they updated their control panel interface and using their hosting service is a piece of cake.
However, another problem had arosed. My domain was locked with enom and Google. So what I did is transfer my domain to Godaddy which cost me 5 days and update my nameservers to Freehostia. I didn't try unlocking my domain since paying an annual renewal fee to Google is a big hassle for me. So I look for a domain registrar who can give me bunch of renewal options and that is Godaddy.
Now you may ask, what will happen to my Google aps. Don't worry, you can always continue using those especially Gmail without losing your past emails. A simple setup to your MX records will solve this problem.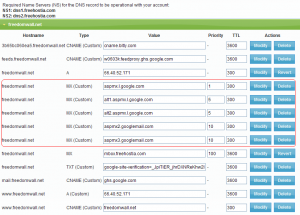 Freehostia's free hosting service includes; 250mb storage (fine for a blog like mine), 6GB of monthly traffic (which is still too far to attain), 1 FTP and 1mySQL Database (which is enough for what you need). But when you will be successfull on your blog, you have an option to get additional memory, traffic, or database for a fee. Three upgrade options are available.
This time, I am using wordpress scripts for my blog and it was a good try for me since WordPress offers more (addons and scripts) than any blogging site or opensource scripts.
Need assistance in setting up your blog and DNS records at free hostia? Post a comment and I'll blog it.