In the modern world, connecting wirelessly has become an essential component of our digital lifestyle. It is mobile, light, cable-free, and pretty convenient. As the online gaming, data streaming, and processing morphed into portable high definition, the need for faster wireless speed has relentlessly increased.
Buffer-Free Wireless Speed
That is why, the Linksys MR8300 came to the picture. The MR83000 is a high-performance router that can deliver up to 2.2Gbps of data, which is ideal for homes that require massive bandwidth for buffer-free 4K entertainment and flicker-free gaming experience.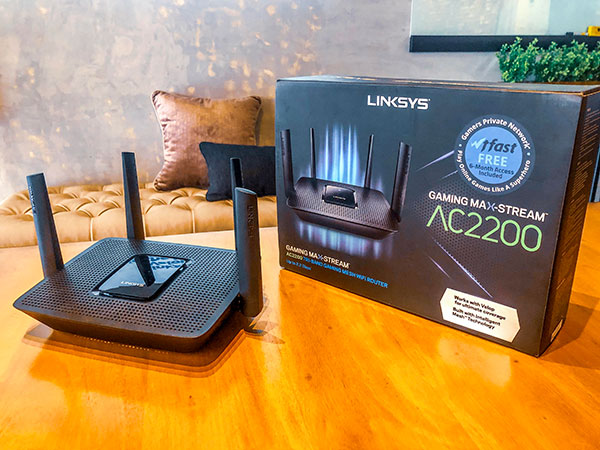 The router is powered by a 716MHz quad-core processor that improves overall network performance for faster wireless and wired connections. Imagine a processor that can power a laptop is installed on a router? The processing power is focused only on providing you the top-notch speed.
However, you must note that the your internet bandwidth is always dependent on your ISP.
Unmatched performance
The MR8300 performed way better than the competition. In a Tolly benchmark test, MR8300 achieved an average ping time of 7.3 ms against the competing routers on a real-world congested environment, consisting of six gaming cellphone and 21 other active devices.
Feature-rich technology
Mesh Wif-Fi Capability
By adding Velop™ nodes to your MR8300, expect a better and wider signal coverage in all corners of your homes. The Intelligent Mesh Technology ensures that all devices get the best coverage and internet connection.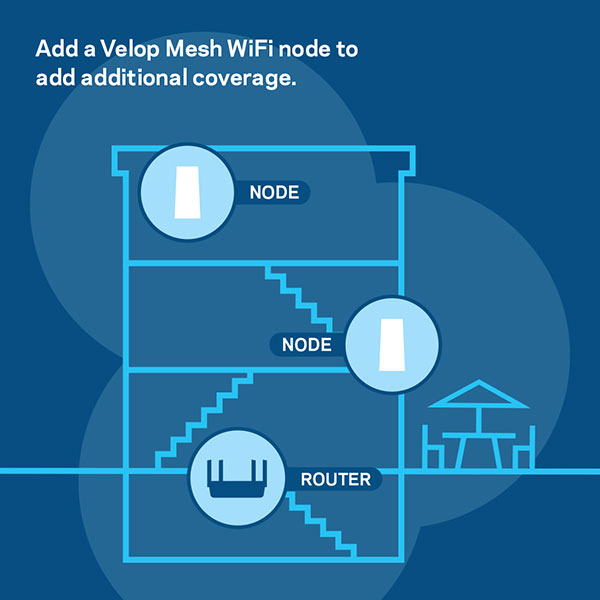 Maximum performance with MU-MIMO
Ordinary Wi-Fi networks reduces speed as more people are connected. Now, say goodbye to descending speeds with MR8300. The router is equipped with Linksys' MU-MIMO technology that  allows up to 4 devices to connect simultaneously on the router at its maximum capacity. That is, if your ISP speed is 200Mbps, then four devices can connect and experience 200Mbps at the same time.
Gaming Prioritization
If enabled, the router prioritizes gaming devices and provide it with the best connection.
Seamless roaming over Linksys Intelligent Mesh™ Technology
As mentioned earlier, the Linksys MR8300 router is built with Linksys Intelligent Mesh™ Technology. Users have the flexibility to grow the WiFi coverage in their homes by adding Velop™ nodes to the system.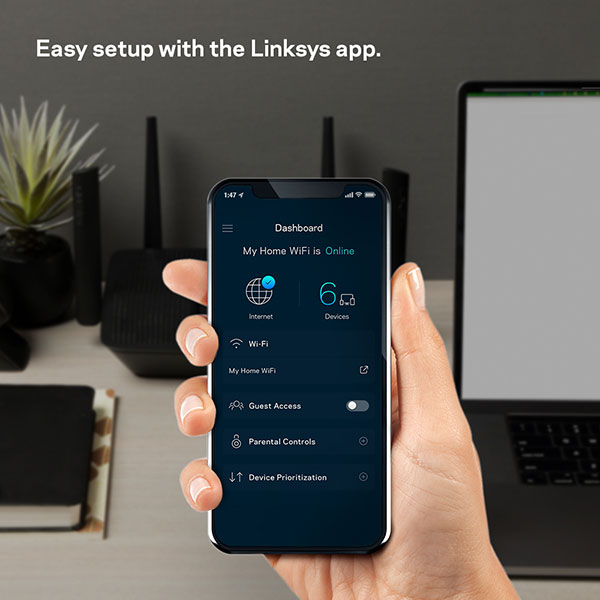 The following are the exciting features of the technology:
Self-Organise – The MR8300 and Velop™ nodes work together to cover any floor plan and Wi-Fi footprint.
Self-Optimise – Wi-Fi bands and channels adjust based on your Wi-Fi habits.
Self-Healing – If a node loses power or connection to the system, the remaining nodes re-establish connections to each other and the internet.
One Network – Supports one network name and password, one admin login, one interface for management and monitoring, and one guest network for the whole home.
Seamless Roaming for whole home gaming – When you add one or more Velop™ nodes to the MR8300, they will communicate with each other to form a single, unified wireless network.
Specifications
Technical Specifications
Details
Tri-band AC2200
Four external fixed antennas with high-power amplifiers
Wi-Fi AC2200 867Gbps (2 to 5 GHz) + 400 Mbps (2.4 GHz) with MU-MIMO
Processor and memory
716MHz Quad core
256MB Flash and 512MB SD RAM
Connectivity
1 x 5Gb WLAN
4 x 5Gb LAN (Ethernet)
Security
WPA2/WPA-Mixed, WPA2-Personal
WtFast Integration
FREE 6 months premium wtfast membership
– wtfast eliminates lag by optimizing your game traffic through the world's largest private gaming network
-Receive FREE unlimited access to the PC Game Launchpad which supports over 1000 online games
Linksys Shield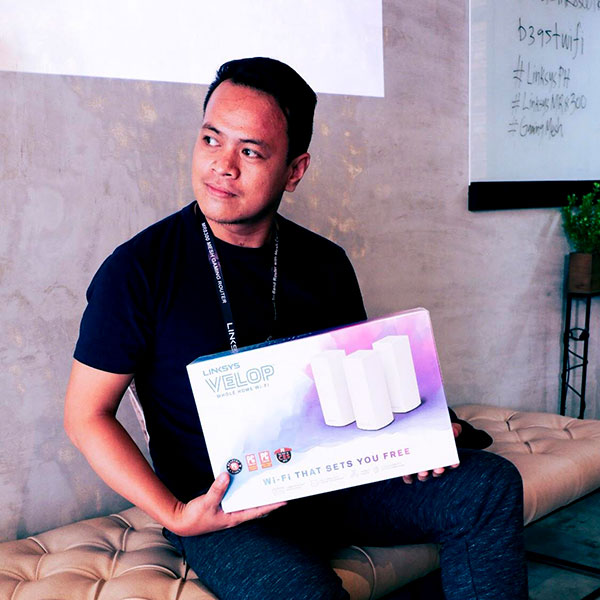 Pricing and Availability
The MR8300 Max-Stream Tri-Band Mesh WiFi AC2200 Router is now available at a recommended retail price of PhP10,995.
The router is available for sale at Complink, Datablitz, Microvalley, Octagon Computer Superstores, PC Worx, Silicon Valley, Villman Computers, and Thinking Tools.
If you purchase your MR8300 from September 17 to October 15, 2019, get Belkin premium items plus Linksys Card. That's up to P8,700 worth of freebies.