Watching the trailer excites me. I know in the first place that these machines will really make out big once it starts rolling. I was so lucky to be one of those early birds to watch the movie in advance. Near midnight of June 28 (GMT+8:00) when I took my first glimpse of Micheal Bay's Transformers: Dark of the Moon in 3D, in which I guess add up to my pile of excitements.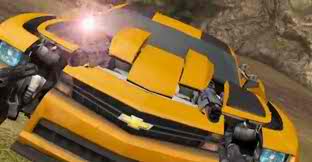 Revealed was, Neil Armstrong's trip to moon was not merely to study the moon and its physical and chemical characteristics but also too look for an unidentified spacecraft (in which Autobots called it "the Ark") that crashed on the Moon's surface.
Treachery, violence, invasion, and distrust were featured that spiced both the screenplay and cinematography. Although there were some cuts that were quite misleading, the twists had been so exciting. Also introduced is Sentinel Prime, Optimus predecessor and former teacher. One thing to note in the scene was when Optimus handed the matrix (the thing which illuminates in pale blue that also raises Optimus from "death") to Sentinel and asked him to lead the Autobots but Sentinel responded stating, "In the world that I do not know, I am no longer your teacher Optimus, you are mine.".
I love the vintage car collections being showcased (but not robot-transforming cars), the fifth generation Chevy Camaro, Bumblebee, and the villain, Soundwave, that transforms into a US$200,000.00 Mercedes-Benz SLS AMG.
Shia LaBeouf's performance as Sam Witwicky with noisy and aggressive character earned for him 4 and a half stars from me. Rosie Huntington-Whiteley who plays Carly Spencer was too sexy for him, just sexy.
[marker]Quotes:[/marker]
Do not temp my addiction!
-former CIA Agent Simmons played by John Turturro-

You may lose your faith in us, but never in yourself. From here, your fight will be your own.
-Optimus Prime-

In the world that I do not know, I am no longer your teacher Optimus, you are mine
-Sentinel Prime-

…time will come that our allies will turn against us but never the day will come that we will forsake this planet, the humanity
-Optimus Prime-
[marker]My Reviews[/marker]
Screenplay/Story: 8.5/10
Visual Effects: 8.5/10
Cinematography: 8.5/10
iMBD Rating: 7.3/10
Shia LaBeouf: 8.5/10
Rosie Huntington-Whiteley: 8/10