The review I have in the following paragraphs are based solely on the hosting services I availed at WebHostingWorld.net (WHW) and the experiences I had with their support team. This blog was peacefully online and functioning with 100% uptime at Freehostia before I transferred to WebhostingWord.net. Since Freehostia does not support SMTP, I looked for a cheap hosting provider that supports the service. Then I stumbled at WebhostingWorld.net website.
February 14, 2012 when I joined WebhostingWorld.net. I availed their Bronze Plan, which cost a dollar for a month of hosting service. I purchased the one year plan because it is a convenient payment scheme for me.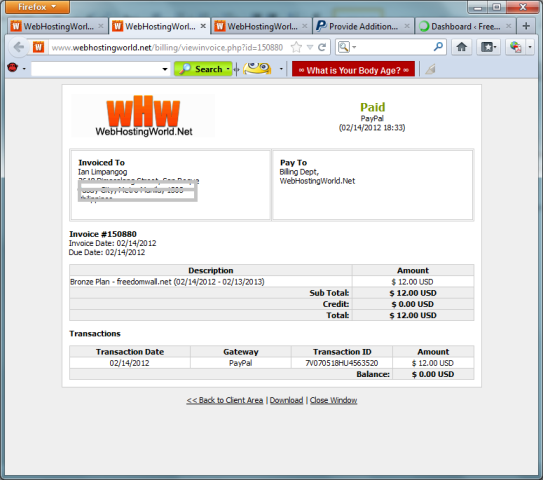 I had no idea on how to transfer my database and files so I asked their assistance. However, it turned out that they cannot access my account even though they already had my Freehostia's cpanel login details. So I asked Freehostia (through forums) on how to do the backup. They (WHW) successfully transferred my files later but, incomplete. I told myself it was fine – they may not be used of using other webhosting providers' cpanel.
I also asked the support team to upload my database, which I attached through email (compressed version). But to told me to attached the file with the .sql extension. That time, I started to doubt. How could these support people do not know how to unpack compressed files. Well, I ended up fixing my own site.
Everything was functioning well since the move, even though they transferred my files incompletely at first.
Few days later, my website kept showing a 403 Forbidden Error. I contacted the support for the second time and they said it was caused by an excessive CPU usage. I wasn't informed that I am only allowed to consume up to 30% of Server CPU (or I may had missed reading it on the features). But what the heck was causing such CPU surge? I contacted the live chat support and they informed me that it may be caused by some plugins I installed in my WordPress blog. So I disabled all the plugins.
Here came another day and I got the same error again. I contacted the support for the third time and they told me that they disabled my account for the same reason. They also told me that they can no longer host my site and so I have to update to their VPS Hosting which is a lot more expensive. So I decided to move away.
It was March 9, 2012 when I informed the support about me leaving their hosting platform because of getting frequent 403 Forbidden error. They replied saying that my site was functioning well. I told them that it was no longer hosted on their servers. I also told them that they are not good on checking the history of their customer complaints that is why they were often lost. They had no reaction on that. At such point, I was still subject of the 30-day Money Back Guarantee. Lately, when I followed up my request, they said, my account is out of Money Back Guarantee. This is their modus!
I filed a dispute with PayPal regarding the issue and I am still waiting for the resolution.
My general assessment:
WHW's 30-Money Back Guarantee is not true.
The support team has no initiative in backtracking the history of complaints
They don't have the technology for this kind of business
The cheap hosting is just a front. When you're hooked, they'll ask you to upgrade to a very expensive plan.
This document shows one of the conversations I had with their support team.